Bill's Adventures
Laura's first big trip
At the end of September, Becky and I went all the way to Northern Vermont to visit friends and relatives. On this trip, Laura met over 90 people, including:
Her great grandfather: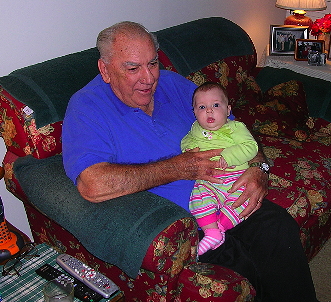 and her relatives on Bill's side:

| | |
| --- | --- |
| Laura's Cousins: | Us with Bill's Sister and family: |
| Bill's Aunt Gini and Laura: | Bill's cousin Jeanne and Laura: |
Laura with Mr and Mrs Einwechter. He's the man who married us!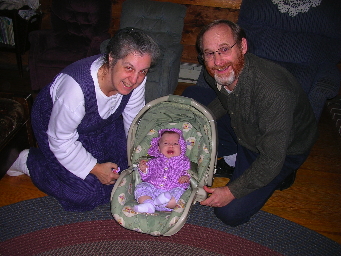 She also traveled a lot!
Here she is on the train enjoying riding on mommie and daddie's laps, no car seat, YEAH!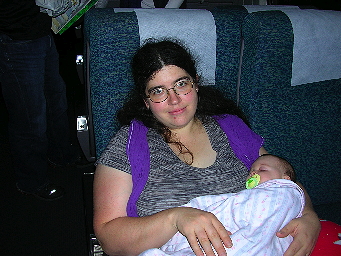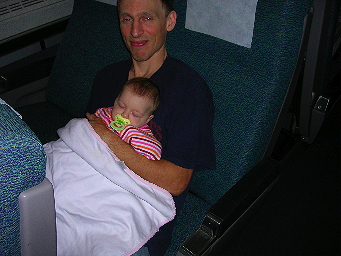 At New Haven, on the Newark Airport People Mover, and waiting for a train on the Northeast Corridor: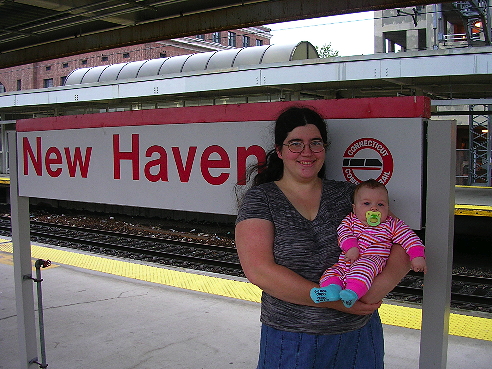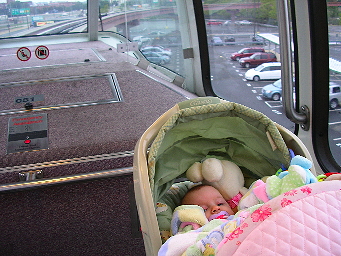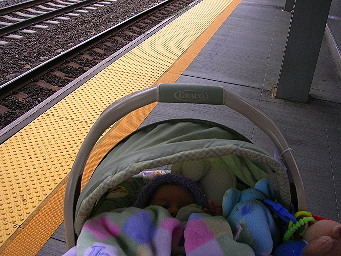 Another special highlight of the trip, visiting the summer cottage at Crown Point NY which has been in the family since it was built in 1927. This is the last generation of Ensingers who will get to go there while it is still in the family. It was sold in 2010 shortly after our trip.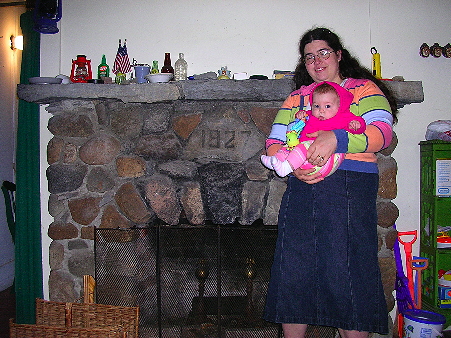 The first Sunday when we returned from our trip, Laura was baptized!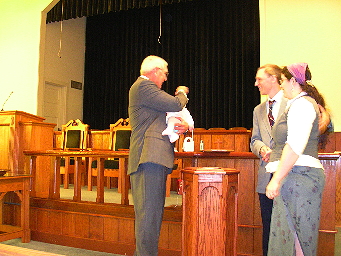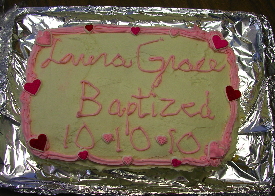 First Baby!!!
Laura Grace, born June 30, 2010, 8lb 2oz, 3:49am. Though we decided to be surprised, we had thought the whole time we were having a boy. We were surprised. It was a Girl!

First Ultrasound Picture at 12 weeks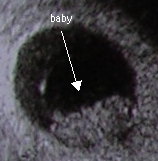 Belly Growth
21 weeks ......................... 36 weeks .............................. 37 weeks ........................... full size!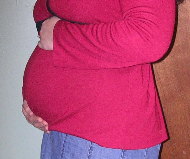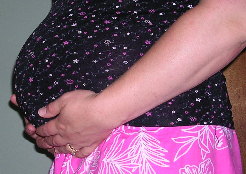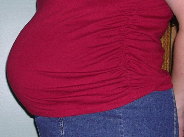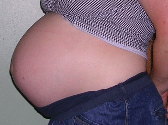 Laura Grace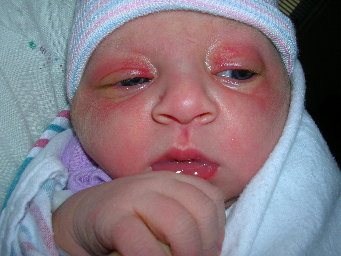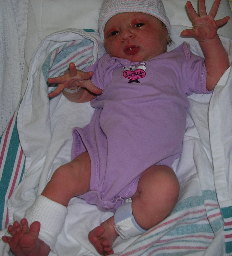 With Mommie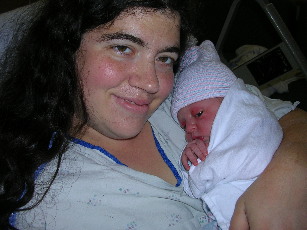 With Daddy (Dad since 2010!)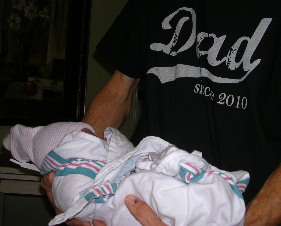 Why the name Laura Grace? Laura was just a name we liked, it is uncommon in both of our families, and we like to do things different to provide distinction. She is her own unique person. We chose Grace because of what happened during the birthing process. When Becky was ready to push, the baby's heart rate dropped to a dangerous level, and she was rushed to the operating room for an emergency C-section. This was a scarry time for us, both because of stress to the baby and because neither of us wanted to go the C-section route if at all possible. Once in the OR, Becky, seeing that the heart rate was back to normal, begged the doctors to let her try pushing again. They were reluctant but decided to let her try. When she pushed, there was no drop in heart rate, so they let her continue, and 90 minutes later, Laura was born the usual way. No C-section! Thank you Lord for your Grace!!!
For more pictures, see the Facebook Album. You don't need a facebook account to see these.
Getting Married!!!
On September 17, 2008, I was matched on eHarmony to Becky DiLella. I first met her in person on December 31, 2008. Things progressed and we were engaged on June 26, 2009 then got married on August 1! This is the greatest adventure of my life!
At the wedding: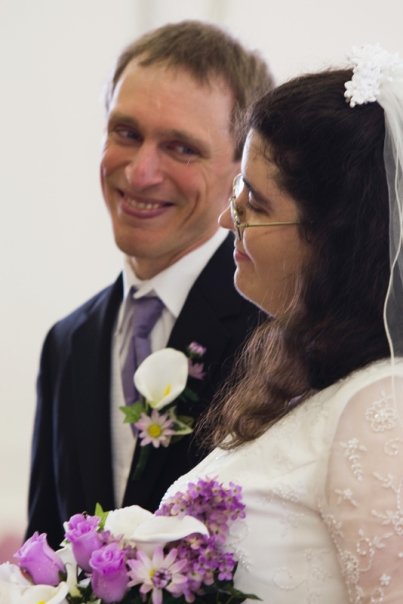 We're married now!

Yes, it really happened!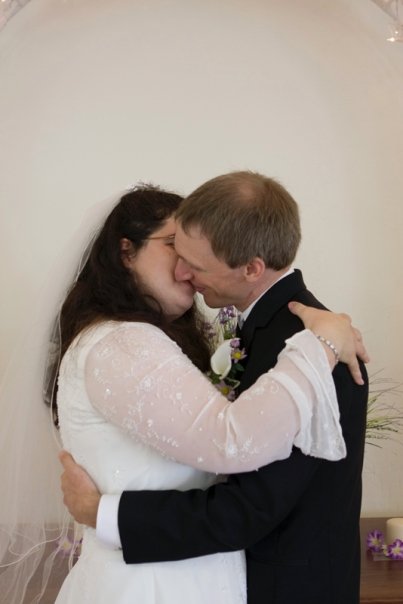 Not to be one for normalcy, we began our honeymoon
with Becky wearing her wedding dress on the train!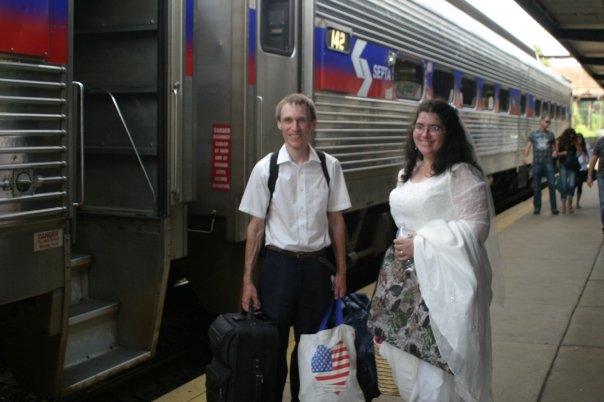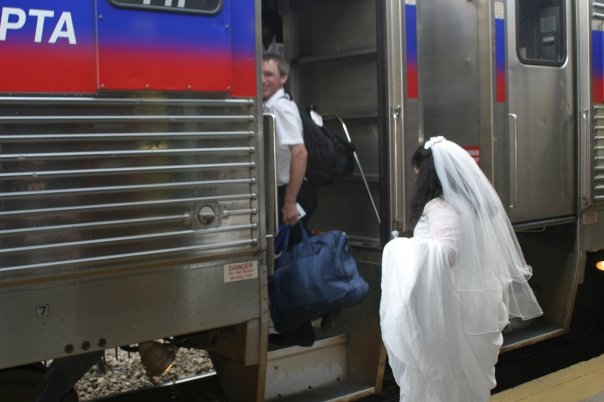 To see more pictures of the wedding, click here!
Fun trips
In the fall of 2006, a friend of mine and I drove from Washington DC to Colorado. He was moving there, I went along for the ride.
St. Louis Gateway Arch, October 2006
Up we go!
New Orleans trips
I have been to New Orleans twice to help out with Hurricane Katrina relief efforts. New Orleans and areas to the east will be recovering from this disaster for years to come.
Trip 2: December 21-28, 2005
Progress is being made, but still a LONG way to go.
New Orleans trip two
Mexico Trips
Aquitzio and Loma Caliente, January 20-February 16, 2006
Lost in a small town in a large country, nobody to contact, and it's getting dark... how did I find where I was supposed to go?
Help me find my way by clicking here!
Here's what we're doing in Mexico. I'm the guy pushing the lawn mower.
Push mower, pick up sticks, burn brush and click here!
Additional Adventures
For more of what Bill has been up to, visit my travel bug on the Geocaching web site. The travel bug's name is Bill's Adventures. It's tracking symbol is TBM02H. And if you create an account at Geocaching, you can sign up to receive notification of when I add a listing to my adventure log!
Click here to go directly to my "Bill's Adventures" travel bug web page.
---
Back to Bill's home page.