It's fun to see where your bills end up. Here is my Where's George hit map: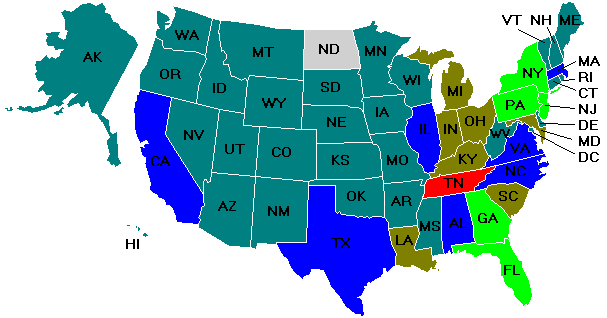 One Dollar Bill, Serial# F7623---2K Series: 2003A
This bill has travelled 6,014 Miles in 298 Days, 1 Hr, 52 Mins at an average of 20 Miles per day.
It is now 4,678 Miles from its starting location.
This list is in reverse-chronological order
Entry Time
(Local Time of Zip)
Location, State/Province
(Green=USA, Blue=Canada, Purple=International)
Travel Time
(from previous entry)
Distance
(Miles)*
Average
Speed
(Miles
Per Day)
Send
Anon
email
View
User
Profile
Sep-28-07 07:48 PM
Honolulu, HI
104 Days, 6 Hrs, 12 Mins
5,001
48
User's Note
Received the bill in New Hampshire
Jun-16-07 07:36 PM
Hadley, MA
193 Days, 19 Hrs, 39 Mins
1,013
5.2
Dec-04-06 10:56 PM
Keystone Heights, FL
Initial Entry
n/a
n/a
User's Note [Edit]
1 of 100 new bills from Wachovia in Richboro, PA, entered @ friend's house in Keystone Hts., FL. Please spend it where someone else willl see it. Thanks!
One Dollar Bill, Serial# K4077---9E Series: 2003
This bill has travelled 1,663 Miles in 3 Yrs, 11 Days, 45 Mins at an average of 1.5 Miles per day.
It is now 1,568 miles from its starting location.
This list is in reverse-chronological order
Entry Time
(Local Time of Zip)
Location, State/Province
(Green=USA, Blue=Canada, Purple=International)
Travel Time
(from previous entry)
Distance
(Miles)*
Average
Speed
(Miles
Per Day)
Send
Anon
email
View
User
Profile
Jul-25-07 08:37 PM
Galeton, CO
150 Days, 10 Hrs, 11 Mins
66
0.44
User's Note
Wall Mart Greeley Colorado. good
Feb-25-07 09:26 AM
Littleton, CO
2 Yrs, 225 Days, 14 Hrs, 33 Mins
1,598
1.7
Jul-14-04 09:52 PM
Basking Ridge, NJ
Initial Entry
n/a
n/a
User's Note
1 of 100 new bills my dad got at the bank at Latham Circle Mall for use on a trip all across the USA during August and September 2004 Odd are handwritten, even stamped